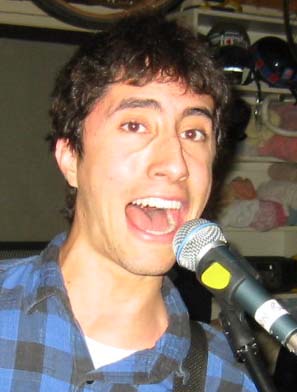 Mikkei
Bio: Mikkei first started playing the guitar in his freshman year of high school. He started why? Most likely to get girls. Apparently, it didn't work out very well. Music showed Mikkei that there were better things to spend youth on than gaining popularity. He got his first guitar for Christ-mass in 1997. The following summer it was stolen and that slowed things down, temporarily of course. Following the theft he rented a guitar until the next Christ-mass season when he got a shiny new Telecaster under the tree. By that time Mikkei had been playing for over a year and was ready to join a mediocre garage bands. For the two years he continued to play with various bands until he ended up in one "serious" project, with Keegan, which later became known as MutE. During his time in MutE, Mikkei was able to find his style, as it were, and start to develop a sense of what he wanted to play. In addition to meeting Keegan through MutE, so did he meet Doug. However, Mikkei realized that the band, after three long years, was not what he had envision. In 2002 he quit the band and took some time to think of what he really wanted to get out of punk rock music. Shortly after he founded California Redemption and has been playing with CaRe ever since.
In addition to punk rock Mikkei also studied Classical guitar at Moorpark College for two years under Ron Borczon. He has also studied guitar with Jym Scwartz and Dave Bates.
other projects: Mikkei also plays in Future Primitive
Influences: Propagandhi, Good Riddance, Verse, Bane, By the Grace of God, Bad Religion, NOFX, Nerve Agents.
Equipment: Ibanez ASX, Ernie Ball strings, Peavy 5150 amp.
Personal Mantra: "Life's too short to make another's shorter."